NEW Zami Ergo Stretch
Where design, ergonomics and innovation meet
VHP ergonomic quality mark
Both private and business orders
30 days of testing
Product range
Zami Ergo stools stimulate an active posture by an optimal curve of your spine
The Zami Ergo stools were developed after years of research by orthopaedic surgeon Piet van Loon. He specializes in preventive care and non-surgical solutions for the spine. His passion is to investigate the biomedical science behind a good posture. Designer Ruud-Jan Kokke has taken care of the design of Zami's ergonomic products.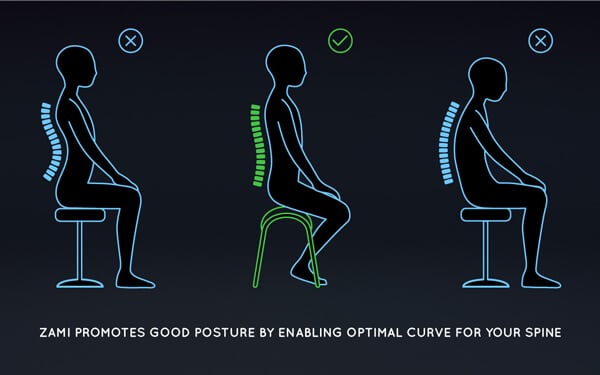 ---
The problem
We are more seated than ever before and there is more and more evidence of the adverse effect this has on our health. Poor posture can cause neck and shoulder problems. We can link long-term sitting to several health risk factors.
The idea
A stool that gives you the optimal curvature for your spine, creating a good, active posture. Zami Ergo stools and desks help you to adopt an active position.
The solution
Inspired by European craftsmanship, designer Ruud-Jan Kokke has designed the perfect stool. It all started with the wooden Zami Ergo Essential. A true work of art designed for the future of sitting. Zami Ergo promotes good posture and helps a healthier lifestyle. The Zami Ergo is the ergonomic design chair of the future.
In 2018, the wooden Zami stools were further developed into new metal models.

Zag B.V. has a strategic partnership with Matador B.V. in Helvoirt with regard to production, assembly, logistics, stock management and order processing.